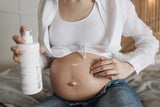 Pregnancy comes with a whole lot of change. Some of the pregnancy symptoms that crop up are totally unexpected, while others you may see coming – like stretch marks, which 50 to 90 percent of people experience as a result of pregnancy, according to Cleveland Clinic. But while some stretch-mark creams claim to prevent the stripes, it's a claim you should be wary of.
To understand why, it's useful to know what stretch marks are. "Stretch marks are a type of scar that result from a rapid stretching or shrinking of the skin, which causes breakdown of collagen and elastin," says Reshmi Kapoor, MD, a dermatologist and owner and founder of Brooklyn Dermatology in Greenpoint, Brooklyn, NY. Genetics play a large role in who gets them, she says, though how quickly your belly grows can matter, too.
Stretch marks also happen during puberty or other times of rapid body changes, and they're so common that you'd be hard pressed to find someone who doesn't have a few. They often fade away almost completely over time, and even when they don't, many people learn to love them – especially the marks that are a result of pregnancy. People call them tiger stripes, love lines, or angel scratches and consider them proof of the amazing things their bodies are capable of.
But when they're forming, they can be a little uncomfortable, dry, and itchy – since your skin is basically growing faster than it's physically able to – and that's where stretch-mark creams come in, says Carmen Castilla, MD, a dermatologist at New York Dermatology Group and clinical instructor at Mount Sinai Hospital. Moisturizers can soothe any itching or tightness you might feel.
During pregnancy, however, it's essential to be careful about what you're putting on your skin. For instance, you should avoid ingredients like retinoids, tretinoin, and vitamin A – which might have some impact on the appearance of stretch marks – because they've been linked to birth defects. Instead, it's best to look for a stretch-mark cream "with ingredients like glycerin, squalene, and hyaluronic acid [to] help hydrate the skin and keep it supple and elastic to accommodate its growth," Dr. Kapoor says.
Ahead, we've rounded up the best stretch-mark creams on the market, according to dermatologists.