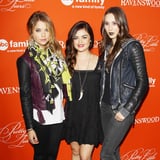 The Liars are together again – well, most of them are anyway. On Sunday, Lucy Hale shared a snap of herself with her "Pretty Little Liars" co-stars Ashley Benson and Troian Bellisario at Every Day Action's casino night gala on Instagram. "Mini reunion for an amazing cause," Hale captioned the post.
Benson shared the same photo on her grid, alongside a couple of adorable outtakes. She captioned her post, "My girls 🖤."
All three women were dressed to impress in the pic. Hale wore an animal print suit over a black top, while Benson rocked a floral body con dress with ties down the side. Bellisario opted for a striped romper in varying shades of red.
Seeing part of the cast together again had fans in the comments feeling nostalgic, with many calling for a full-blown reunion. Even "Pretty Little Liars" showrunner I. Marlene King commented on Hale's post with three heart emojis.
Missing from the mini reunion were Sasha Pieterse, whom Hale reunited with last year, and Shay Mitchell, who played Emily on the show. In 2020, Mitchell and the rest of the cast reunited via Zoom for a charity reunion during the pandemic. At the time, she noted how special it was to see everyone again, and revealed that if a reunion movie ever comes to fruition, she would love to appear in it if the timing is right. "If that was something that was happening, I would jump on board for sure. Absolutely," she told Entertainment Tonight at the time.
Even though it's been almost six years since "Pretty Little Liars" aired its much-talked about finale, it's clear fans are still craving more. HBO Max's reboot of the series, "Pretty Little Liars: Original Sin" has kept the franchise alive (a second season is coming soon), but the original stars will always hold a special place in the hearts of viewers.