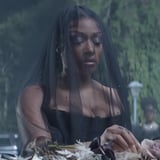 Y'all, it's finally happening – Megan Thee Stallion's new album is almost here! On Aug. 9, the Texas rapper dropped a trailer for her second album, seemingly titled "Traumazine." "It took a lot of self reflecting to get to the point in my life where I am right now," Megan wrote on Instagram. "I ain't saying I finally figured everything out or that I'm finally at peace, bc I'm not… buttt im excited for the hotties to get a better understanding of what's happening in my head." She didn't announce a release date.
Megan previously announced in an interview on Apple Music 1 on Oct. 28, 2021, that her second studio album was on the way. The rapper released "Something For Thee Hotties: From Thee Archives" on Oct. 29, 2021, as a gift to her fans and as a way to hold them over until a follow-up to 2020's "Good News" arrives. "I've been sitting on these songs, so now I'm like, 'OK, the hotties deserve this. They should have it,'" Megan said of her mixtape. "And y'all should be prepared for next year."
The rapper also discussed the pressures of holding her audience's attention on social media in between projects and comparing herself to other artists. "I got to block out everything else, and I just want to rap. Sometimes it gets hard, though, because you look at social media and you're like, 'OK, this must be what's hot,'" Megan said of her relationship with social media. "I feel like a lot of artists, we look at other artists and be like, 'Oh my gosh, this has to be like this because they the sh*t so I got to be that b*tch, too.' But I'm like, 'Nah, it's not me.'" Watch the trailer for Megan's "Traumazine" album above.